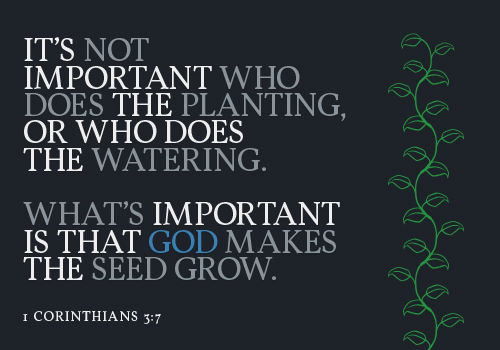 What, after all, is Apollos? And what is Paul? Only servants, through whom you came to believe—as the Lord has assigned to each his task.  I planted the seed, Apollos watered it, but God has been making it grow. So neither the one who plants nor the one who waters is anything, but only God, who makes things grow.  The one who plants and the one who waters have one purpose, and they will each be rewarded according to their own labor. For we are co-workers in God's service; you are God's field, God's building.   1 Corinthians 3:5-9

I don't have any real work experience in the film industry, but I know we see the actors but we don't see the production crew. In restaurants you generally see the servers but not the chef. However without the production crew the actors could not be seen or heard and surely without a chef there would be no meal.
As it is in the spreading of the gospel and the ministry of the church as a whole. We must all be careful to not let our flesh get caught up in our roles or more often referred to "our calling". Some people are called to go out and feed the homeless and others are served to cook the food or prepare the food packages for distribution. Some are called to sing in the choir and some are called to greet and welcome people into the House of God. No matter what work God has placed in your hands to do, your purpose is not more or less important than that of your sister or brother in Christ.  As stated in the scripture above, whether you  plant or whether you provide the water, you don't have the ability to bring forth growth, only God can do that. You can have a magnificent voice or be able to teach/preach God's word with wonderful clarity, but only the Holy Spirit can touch a person's heart or bring conviction that leads a person to a new way of doing, living and being. Let's be careful that we never forget that we are all co-workers. Satan may lead you to believe that your gift, your talent or your skill is more valued than someone else's, but don't be fooled, it is not.
For I say, through the grace given to me, to everyone who is among you, not to think of himself more highly than he ought to think, but to think soberly, as God has dealt to each one a measure of faith. For as we have many members in one body, but all the members do not have the same function, so we, being many, are one body in Christ, and individually members of one another. Romans 12: 3-5
Embrace and be thankful for your assignment while supporting and celebrating the purpose of others. We're just co-laborers, we can't make anything grow.